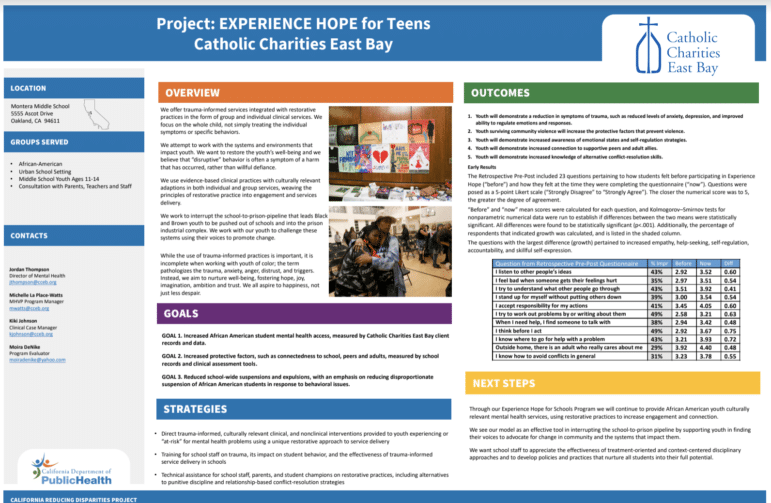 Catholic Charities East Bay works with youth, children, and families to promote resilience, strengthen families, and pursue safety and justice for all Approach to programming 
We choose to work in schools because research shows that Black youth primarily receive mental health services at school.  Our clinician and Restorative Practices Specialist provide youth with individual and group clinical and restorative practices support. Restorative Practices shift the power differential and allows our youth to learn to solve conflict peacefully by repairing the harm done to the community.  Black youth learn an indigenous practice of our culture, in part debunking the myth that we are a violent and aggressive people.  Our youth are subjected to historical, intergenerational, pervasive, interpersonal, racial oppression as trauma. We believe that the etiology of trauma in Black youth lie in systems of oppression.
We offer trauma-informed services integrated with restorative practices in the form of group and individual clinical services. We focus on the whole child, not simply treating the individual symptoms or specific behaviors. While the use of trauma-informed practices is important, it is incomplete when working with youth of color; the term pathologizes the trauma, anxiety, anger, distrust, and triggers. Instead, we aim to nurture well-being, fostering hope, joy, imagination, ambition
We attempt to work with the systems and environments that impact youth. We want to restore the youth's well-being and we believe that "disruptive" behavior is often a symptom of a harm that has occurred, rather than willful defiance.
We use evidence-based clinical practices with culturally relevant adaptions in both individual and group services, weaving the principles of restorative practice into engagement and services delivery.
We work to interrupt the school-to-prison-pipeline that leads Black and Brown youth to be pushed out of schools and into the prison industrial complex. We work with our youth to challenge these systems using their voices to promote change.
There is a basic inequality at the heart of every crisis we're facing in this moment – the crises of police violence and mass incarceration, the crisis of poverty excluding so many Black families from the American promise, and the COVID-19 public health crisis disproportionately affecting communities of color nationally and in Oakland. Our work in Montera Middle School has necessarily pivoted to focus on helping our students survive and thrive in the new reality of shelter-in-place and remote learning.
Prior to school closures we offered restorative practice interventions for youth and adults at the school; for the most part these activities focused on solutions to conflict with youth and staff. This has drastically changed during the pandemic. Even though there can still be conflict in the virtual classroom, overwhelmingly our youth are struggling with feelings of isolation, anxiety, and a sense of loss of normal. Our clinician and restorative practitioner have been using restorative practices in classrooms, modeling these skills for teachers as community building tools that support engagement and relationship building and strengthening, helping to overcome some of the mental health impacts of sheltering-in-place.
As the 20-21 school year has progressed our staff have been able to join administrators, teachers, and youth in their virtual classroom experiences, helping to connect students and families to the new remote school environment. During the first 3 months of the 2020/21 school year, our staff provided 77 coaching support sessions to teachers and staff in virtual platforms. Experience Hope staff also helped individual youth in classrooms and in breakout rooms with 24 sessions of restorative practice support to manage grades, conflicts, classroom logistics, focus, concentration, and task orientation. Outside of classroom services, our youth remained engaged in individual services and continued to meet virtually with our providers.