Name: Safe Passages, Law and Social Justice Life Coaching Project
Mission: Safe Passages disrupts the cycle of poverty by engaging youth and families to build a continuum of services that support student success and community development.
Approach to programming: Safe Passages Law and Social Justice Life Coaching Project (LSJ Life Coaching Project) is a prevention and early intervention program that aims to prevent and/or reduce the effects of exposure to chronic stress (including trauma associated with poverty, exposure to racism, being disenfranchised from the education system, and Juvenile Justice system involvement) among African American adjudicated youth ages 16 to 21 by decreasing: mental illness or the severity of symptoms associated with trauma or mental illness, school failure and drop out, incarceration/ recidivism, and increasing/improving: coping skills, self-regulation, relationships with caring adults, access to services, employment, and family engagement. It is designed to address the following Phase 1 priority population strategies: Life Coaching and Case Management Services; Life Skills/Know Your Rights, and Family Engagement/Coaching as a means to attain the aforementioned outcomes.
.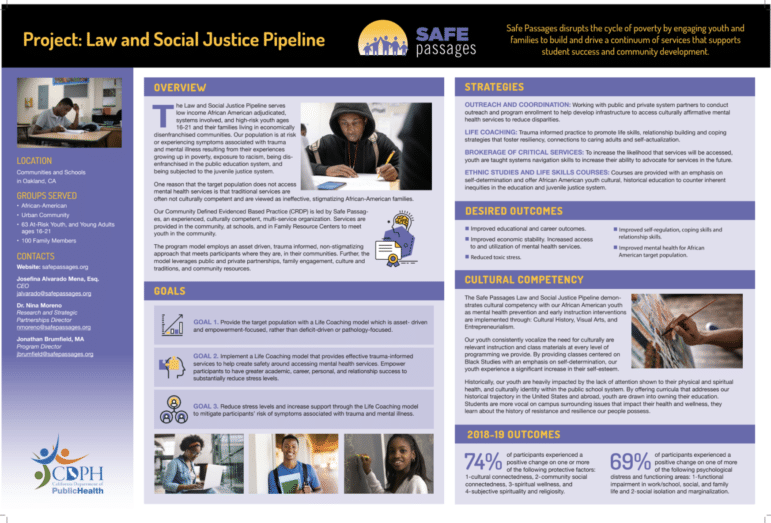 Team/Staff

Josefina Alvarado Mena, J.D., CEO & Life Coaching Director
Josefina Alvarado Mena was awarded an Echoing Green Fellowship in 1996 after finishing her J.D. at the University of California, Berkeley School of Law. Josefina used her Echoing Green Fellowship to create the Educational Empowerment Program to provide free legal education and services to low-income students in Oakland, California. In 1999, Josefina was recruited by an incoming Superintendent of Oakland Unified School District to head the Department of Student, Family, and Community Services. She was the youngest member of the Executive Cabinet in the history of the organization. During her tenure she helped expand after-school programs, violence prevention programs, parent engagement and mental health programs throughout the school district. As director of the department, she also led the effort to develop the Safe Passage Middle School Strategy that has resulted in a 72% decrease in suspensions for violence at target high need middle schools in Oakland. Josefina was then recruited to lead Safe Passages, a city-wide initiative designed to reduce violence among the children and youth of Oakland. Josefina was one of only 5 employees when she arrived at Safe Passages. Currently the organization has a staff of 125. As the Chief Executive Officer for Safe Passages, Josefina has grown the organization from a foundation funded initiative to a leading independent 501(c)(3) Multi-service Nonprofit Organization that implements a continuum of programs that serve children and youth, from birth through college and career. A native of Oakland, Josefina grew up in one of the neighborhoods served by Safe Passages. She received her B.A. in Ethnic Studies from UC Berkeley in 1993, and a Juris Doctorate from the University of California, Berkeley School of Law in May 1996. She is also a recipient of the following honors and awards: Echoing Green Global Fellowship 1996-1998, Education Advocacy Award 2003, Hispanic Chamber of Commerce of Alameda County; Outstanding Education Advocate 1999, People United for a Better Oakland (PUEBLO); Advocacy Award, California Latino Civil Rights Network 1998, and James Irvine Foundation California Leadership Award 2009.
Jonathan Brumfield, M.A., Life Coaching Manager
Jonathan Brumfield oversees the implementation of the Get Active Program, the Safe Passages Urban Arts program. Through art, this program is designed to promote social justice and cultural awareness with a strong emphasis on leadership development and community engagement among youth.  Brumfield has worked as an Urban Arts instructor and case manger in Oakland School and has over a decade of experience in addressing the needs of high need youth, with an emphasis on males of color.  Mr. Brumfield has a B.A. in Criminal Justice from San Francisco State University.  He is also an Artist in Residence at the African American Complex in San Francisco.
Nina Moreno, Ph.D., Local Evaluator
Nina Moreno oversees research and strategic partnerships efforts for Safe Passages. She founded and was the Principal of Moreno & Associates from 2010-2014, where she consulted on program/project design, management, and evaluation; policy research, analysis, writing, monitoring, and advocacy; and development. Nina's career began as the Director of the Family Group Decision Making (FGDM) Project and then later as the Executive Director of the Bushwick Community Development Unit, both projects of Agenda for Children Tomorrow (ACT) in New York, NY, where she worked to reform local policies and increase funding opportunities in the area of child welfare. For the past ten years, Nina has worked on state and national policy research and reform as well as fundraising in the areas of health and education as the Regional Director of the Safe Haven Initiative at the National Center on Addiction & Substance Abuse at Columbia University and Interim Executive Director of the Children's Defense Fund- California. Nina holds a Ph. D. in Social Welfare from the School of Social Work at Hunter College and a B.S. in Human Service Studies from Cornell University, College of Human Ecology. When she is not conducting research and developing strategy, Nina may be found exploring the world with her partner.
What important updates is your organization working on right now, in the context of the CRDP?
The California Reducing Disparities Project (CRDP), a special project of the Office of Health Equity, California Department of Public Health, is an unprecedented initiative in California and nationally designed to reduce mental health disparities. The CRDP seeks to uplift culturally affirmative mental health practices and establish that our community-derived, evidence-based practices can counter chronic stress and historical trauma in communities of color and the LGBTQ+ community, thus improving mental health outcomes. The goal of the CRDP is to simultaneously reduce mental health disparities experienced by low-income children, youth and adults across 5 traditionally unserved, underserved, and inappropriately served population groups (African Americans, Asian and Pacific Islanders, Latinx, Lesbian, Gay, Bisexual, Transgender, and Queer (LGBTQ+, and Native Americans) via 35 Implementation Pilot Projects (IPPs) implementing community-defined, evidence-based practices (CDEP) as opposed to traditionally funded mental health services. The CRDP is currently in year 4 of its 5-year, Phase II timeline, which began on July 1, 2017 and will end on June 30, 2022.
In May 2019, Safe Passages convened the Cross Population Sustainability Steering committee comprised of CRDP community-based providers from the 5 populations to advocate for sustainability of the CRDP and scalability of CDEPs. Since that time, the unique coalition of 35 community-based providers has developed and implemented statewide and local advocacy strategies to expand awareness of the CRDP and the CDEPs towards addressing the systemic racism within the mental health system.
Is there anything "coming soon"?
Safe Passages will continue to support the CRDP coalition and its advocacy efforts for continued and expanded funding for the CRDP. 
Principal contact person(s):

Josefina Alvarado Mena, J.D., CEO & Life Coaching Director

Email, Phone, Website, etc.:
Social Media links (Facebook, Twitter, Instagram, etc.):

https://www.instagram.com/oaksafepassages/?hl=en
https://www.linkedin.com/company/safe-passages