Native American Drum, Dance, and Regalia (NADDAR)
To promote and support the physical, behavioral and spiritual well- being of American Indian and Alaska Natives in the urban Los Angeles area by providing comprehensive, integrated services that focus on all age groups and incorporate American Indian and Alaska Native cultures and traditions.
Our Approach to Programming
UAII provides quality physical and behavioral health, education and social support services that promote healthy lifestyles and individual responsibility in order to strengthen American Indian and Alaska Native communities, now and for future generations. All services integrate traditions, practices, and beliefs that are culturally sensitive and respectful of American Indian and Alaska Native tribal affiliation.
The Native American Drum, Dance and Regalia program (NADDAR) was created in 2005 recognizing the need for traditional practices to assist with increasing cultural programs aimed at reducing mental health and substance use, as well as increasing cultural identity and family, community and cultural connections for AIAN communities. NADDAR is one of the culturally based prevention and treatment programs provided at United American Indian Involvement (UAII), Seven Generation's Child and Family program aimed at reducing health disparities among the urban AI/AN families in Los Angeles. The program is 8-weeks long and is offered once a week for 2 hours. Native elders and respected leaders in the Los Angeles Native community provide cultural education including drumming, dancing, and regalia making. An important part of the program is integrating traditional practices into treatment.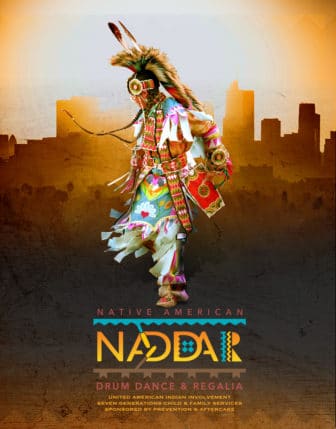 Carrie Johnson, PhD (Wahpeton Dakota) Principle Investigator 
Daniel Dickerson, D.O., M.P.H., (Inupiaq) Co-Investigator
Cynthia Begay, MPH (Hopi/Navajo/Chicana) Program Evaluator
Anthony Chase In Winter (Lakota/Chicano) Community Coordinator
Farrah Ferris (Hupa/Yurok/Karuk/Redwood Creek) Clinical Community Coordinator
UAII is currently concluding our final cycle for NADDAR. Due to the COVID-19 pandemic, we created a virtual version of our NADDAR programming. We are happy to report that our virtual NADDAR programming has been a success! We have been able to reach more families across Los Angeles County, and the instructors have been instrumental in adapting and improving virtual NADDAR each week. This cycle has been highly attended.
The NADDAR team is developing a manual to adapt this curriculum at other sites. We are working in collaboration with the instructors, evaluation team, and principle investigator to provide detailed culturally specific protocol for the NADDAR curriculum.
Our team is also developing several manuscripts as part of our data dissemination plan to uplift the need and positive impact culturally tailored programming like NADDAR has for our community.
Carrie L. Johnson, Ph.D (Wahpeton Dakota)
Director, Seven Generations Child and Family Services
United American Indian Involvement, Inc.
1125 West 6th Street, LA, CA 90017
213- 241-0979, ext 7136
www.uaii.org